The Mirena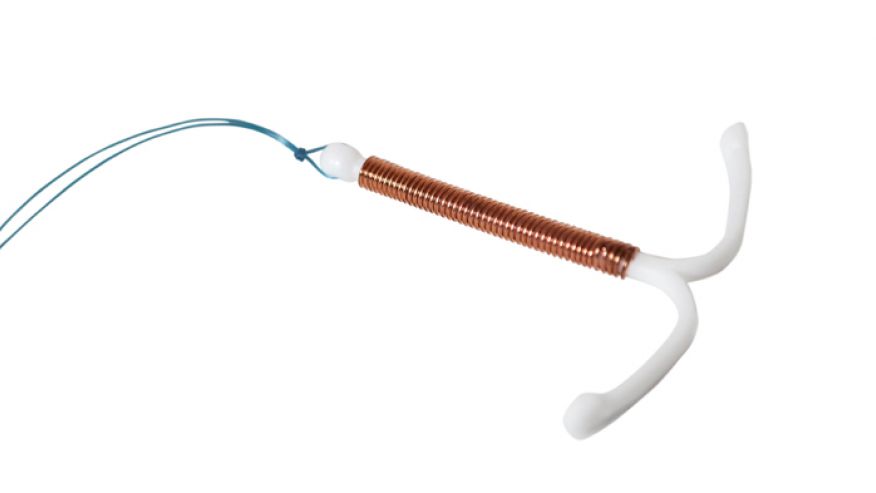 A client recently asked if i would write a piece on the Mirena contraceptive device, and i think it is well overdue with all the clinical disasters i have seen occur as a result of its prescription over the years.
For those unaware, the Mirena is an Intra-uterine contraceptive device that secretes a synthetic progesterone surrogate known as Levonorgestrel. The two most common uses of the Mirena are for hormonal contraception, and to prevent endometrial hyperplasia (overgrowth) from unopposed estrogen in functional oestrogen dominance or hormone replacement therapy. The Mirena device is also used to "treat" secondary amenorrhea, dysfunctional uterine bleeding and endometriosis, and as palliative treatment of endometrial cancer.
The synthetic progesterone from the Mirena essentially "tricks" the body into thinking it is pregnant through constant secretion. Progesterone's normal effects include a role in the maintenance of pregnancy, which requires the prevention of additional pregnancies during the course of an established one – herein lies the use of progesterone in birth control.
The Normally Functioning Menstrual Cycle
The menstrual cycle is regulated by the complex interaction of a few key hormones: luteinizing hormone, follicle-stimulating hormone, and the female sex hormones estrogen and progesterone .
The menstrual cycle begins with menstrual bleeding (menstruation), which marks the first day of the follicular phase. Bleeding occurs after estrogen and progesterone levels decrease at the end of the previous cycle.
This decrease causes the top layers of thickened lining of the uterus (endometrium) to break down and be shed. About this time, the follicle-stimulating hormone level increases slightly, stimulating the development of several follicles in the ovaries.
Each follicle contains an egg. Later, as the follicle-stimulating hormone level decreases, only one follicle continues to develop. This follicle produces estrogen .
The ovulatory phase begins with a surge in luteinizing hormone and follicle-stimulating hormone levels. Luteinizing hormone stimulates egg release (ovulation), which usually occurs 16 to 32 hours after the surge begins. The estrogen level peaks during the surge, and the progesterone level starts to increase.
During the luteal phase, luteinizing hormone and follicle-stimulating hormone levels decrease. The ruptured follicle closes after releasing the egg and forms a corpus luteum, which produces progesterone .
During most of this phase, the estrogen level is high, but progesterone should outnumber its presence by a 300-400:1 ratio in a fully fertile healthy woman.
Progesterone and estrogen cause the lining of the uterus to thicken more, to prepare for possible fertilization. If the egg is not fertilized, the corpus luteum degenerates and no longer produces progesterone, the estrogen and progesterone levels decrease, the top layers of the lining break down and are shed, and menstrual bleeding occurs (the start of a new menstrual cycle).
If the egg IS fertilized, progesterone remains high, as its anti-inflammatory and protective properties (described below) ensure optimal health of mother and child.
Hormone and Menstrual Irregularity, a leading sign of stress
Below is a simplified diagram of the hormone cascade, outlining the synthesis of hormones (pregnenolone) from LDL cholesterol, using the cofactors Free T3 and Vitamin A, through to the end products of the steroid hormones.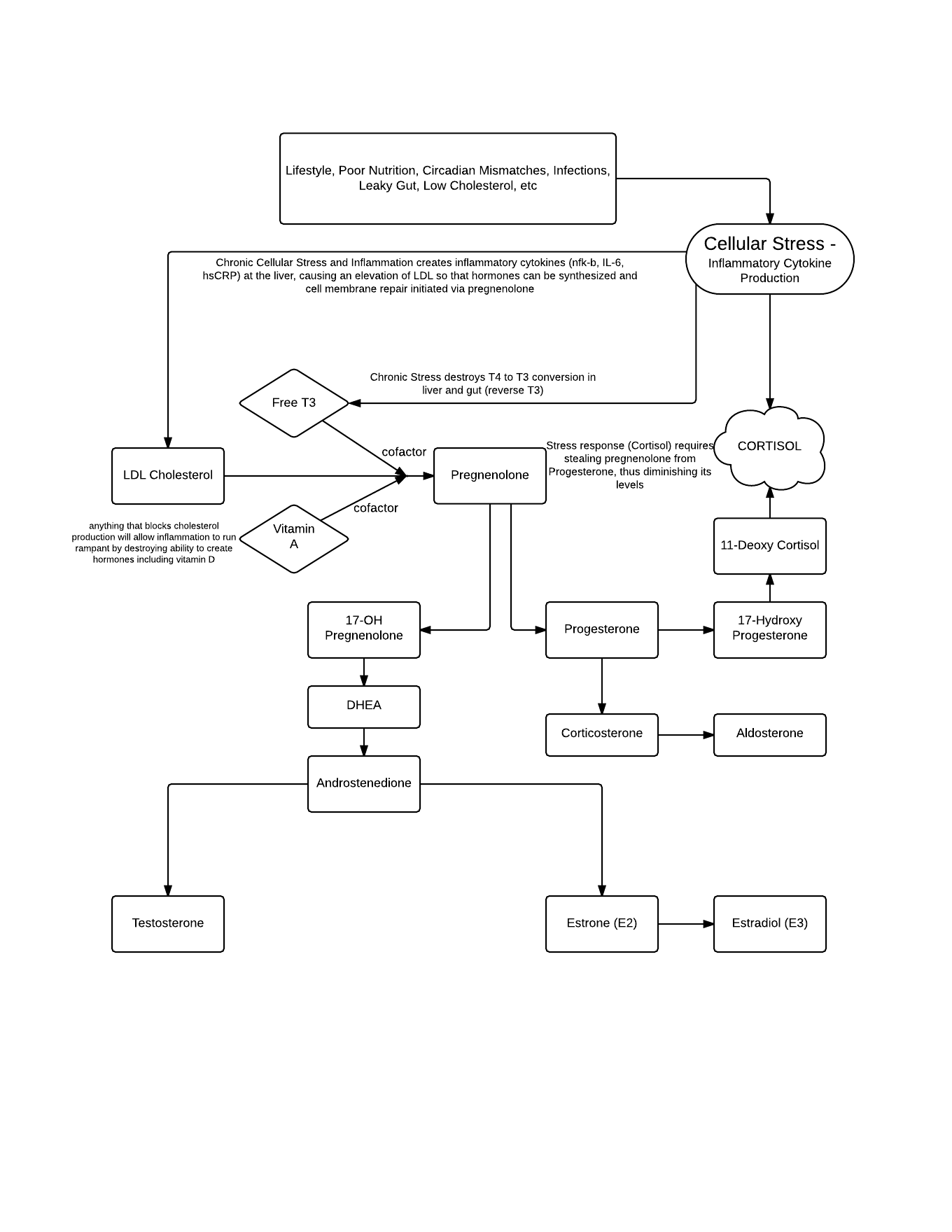 The human hormone cascade really does show the genius of nature at work in the way it is set up. The body is geared to read and react to environmental pressures, and survive at all costs in the face of stress. We can survive without Progesterone, but not without the life saving stress hormone cortisol.
Cortisol is the "wonder drug" that allows a human being to jump onto a roof out of the way of a derailed train, and leaves them wondering how in the hell they got there. It is what allows someone to lift a car off a crushed pedestrian after an accident. But our stress responses are geared for acute stressor like these only. The problem in a modern world is that the stressors we face are both chronic and numerous.
Note that a precursor for Cortisol is Progesterone. In essence, cortisol takes precedence at the expense of the sex hormones, for there is no point putting energy into the creation of a progeny when survival is at stake! The body is geared to only produce offspring when the conditions of existence are favourable, and stress is low, to ensure optimal health for both mother and child, and best epigenetic outcomes. Many issues involving bleeding irregularity, heavy periods, endometriosis (in fact everything that the mirena is used to treat) could be seen as a direct result of stress to the system, and the consequent shunt of progesterone to cortisol, resulting in estrogen dominance.
Summary: increased cortisol = decreased progesterone = low Progesterone:Estrogen Ratio = Crazy Fucked up Menstrual Symptoms.
SO….what does the Doctor do?
PrEsCriBe MiReNa oF CoUrsE – BcOz ProGeSterOne RiTe??
Wrong.
Naming and Confusion with Progesterone-Like Substances – The Problem with Progestins
All synthetic progesterones fall under the broad category PROGESTINS. Although Progestins act by binding to the Natural Progesterone "receptor," and impart some similar actions in terms of signalling as natural progesterone does, it should be noted that they do not produce ALL the beneficial effects of true endogenous progesterone, and often act in opposition to natural progesterone in many ways, namely by competing with it at the cell "receptor" site, and affecting its endogenous production through negative feedback.
In fact, the in vitro relative binding affinities of Levonorgestrel at human steroid hormone receptors is 323% that of natural progesterone, meaning it is a direct competitive inhibitor of natural progesterone.
Levonorgestrel in the Mirena IUD is considered a progestin because it modifies the uterus in approximately the way progesterone does (by thickening the uterine and cervical lining,) but it is also luteolytic, and lowers the ovaries' production of endogenous progesterone. Levonorgestrel s not supportive of gestation in the way that natural progesterone is (it has been used historically as the major active ingredient in the "morning after pill"), which should point to the reasons for concern in its liberal use – it lacks the beneficial anti-inflammatory, pro-gestational, restorative properties of natural Progesterone.
Severe "side" effects of Mirena (effects):
• severe cramps or pelvic pain;
• extreme dizziness, feeling like you might pass out;
• heavy or ongoing vaginal bleeding, vaginal sores, vaginal discharge that is watery, foul-smelling, or otherwise unusual;
• severe pain in your side or lower stomach;
• pale skin, weakness, easy bruising or bleeding;
• fever, chills, or other signs of infection;
• pain during sexual intercourse;
• sudden numbness or weakness, especially on one side of the body;
• sudden or severe headache, confusion, problems with vision, sensitivity to light;
• jaundice (yellowing of the skin or eyes); or
• signs of an allergic reaction: hives; difficulty breathing; swelling of your face, lips, tongue, or throat.
Less serious "side" effects may include:
• irregular menstrual periods, changes in bleeding patterns or flow;
• breakthrough bleeding, or heavier menstrual bleeding during the first few weeks after device insertion;
• back pain;
• headache, nervousness, mild dizziness;
• nausea, vomiting, bloating;
• breast tenderness or pain;
• weight gain, acne, changes in hair growth;
• depression, anxiety, mood changes, loss of interest in sex;
• mild itching, skin rash; or
• puffiness in your face, hands, ankles, or feet.
This is not a complete list of side effects and others may occur.
Progestins vs Progesterone
In contrast to Levonorgestrel, endogenously produced natural progesterone has a positive effect on the corpus luteum, further stimulating progesterone synthesis, and supporting gestation.
Progesterone participates in practically every physiological process in both men and women. Its tremendous increase during pregnancy serves to stabilize the organisms, both mother and child, during that crucial time. The stabilizing action of progesterone is especially visible in muscle tissue, such as the uterus, blood vessel walls, the heart, the intestines and the bladder. Less visibly, progesterone stabilizes and normalizes nervous, secretory and growth processes.
At levels reached just before delivery, progesterone produces anesthesia and contributes to tissue elasticity in the mother, allowing for easy delivery.  The rates of caesarian section deliveries in a modern world point toward estrogen dominance/progesterone deficiency.
The growing fetus requires large amounts of glucose, and progesterone makes it possible to be provided in abundance for ideal brain growth, by promoting the mother's ability to use fat for her own energy. It is this efficient use of fat which gives women greater long-range endurance than men. When progesterone is deficient, there tends to be hypoglycemia, often combined with obesity.  Conversely when Progesterone is abundant, women tend to really "find their groove" in terms of body composition.  This is likely also an evolutionary signal to the opposite sex that the female is in good shape to have a healthy baby.
Recent studies show that progesterone prevents stress-induced coronary blood vessel spasms in aged hearts – probably explaining women's relative freedom from heart attacks, so long as they retain functioning ovaries.  Other studies suggest that progesterone has a role in regeneration of damaged brain cells and prolonged growth of the brain. Delayed aging and longer life span have been very clearly related to extra progesterone.
Since progesterone normalizes the immune system (it causes thymus regeneration, for example) it is very effective in autoimmune diseases (which result from adverse reactions to one's own tissues) and in those degenerative disease which have an autoimmune component.
Progesterone has been found experimentally to be the basic hormone of adaptation and of resistance to stress. The adrenal glands use it to produce their anti-stress hormones, as outlined above, and when there is enough progesterone, they don't have to produce the potentially harmful cortisol. In a progesterone deficiency, we produce too much cortisol, and excessive cortisol causes osteoporosis, aging of the skin, damage to brain cells, and the accumulation of fat, especially on the back and abdomen.
Progesterone also relieves anxiety, improves memory, protects brain cells, and even prevents epileptic seizures. It reverses many of the signs of aging in the skin, and promotes healthy bone growth. It can relieve many types of arthritis, and helps a variety of immunological problems.
SUMMARY: Progestins =/= Progesterone, Levonorgestrel is NOT Progesterone.
Levonorgestrel imparts an Estrogenic effect, despite mimicking some of the functions of Progesterone, by competing heavily for the Progesterone Receptor, and lowering normal progesterone production – sometimes irreversibly.

Lower endogenous Progesterone is linked with early onset of diseases of aging including osteoporosis, wrinkling skin, cognitive decline, obesity, arthritis and heart disease.