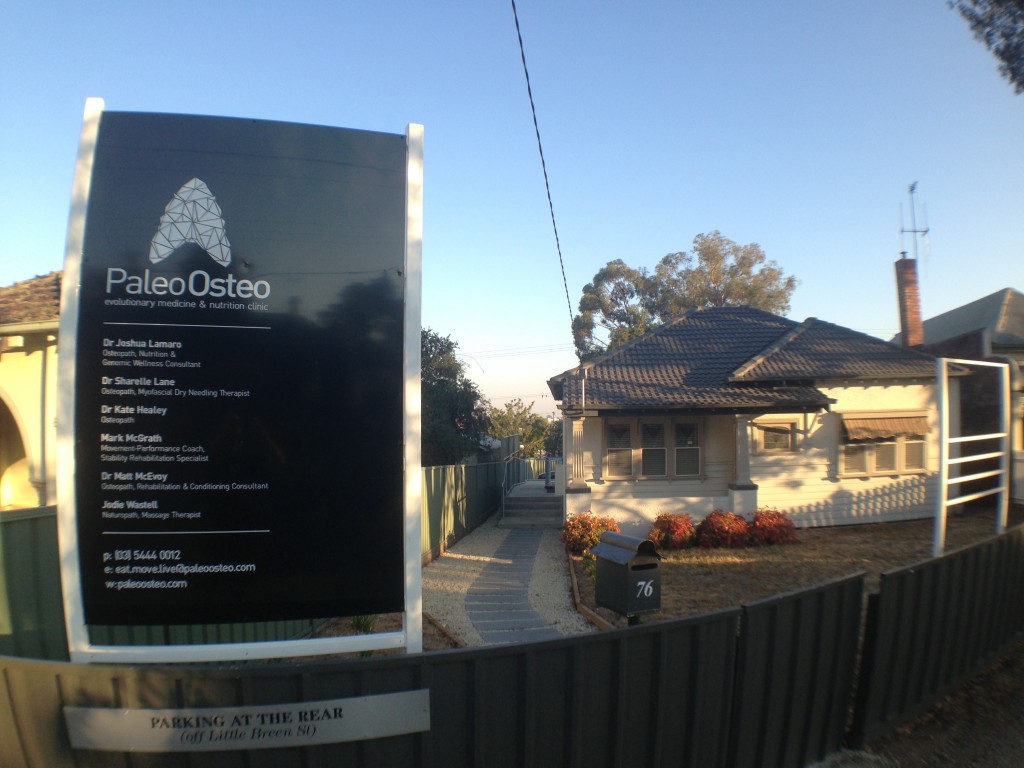 Paleo Osteo provides a portal for an unbiased source of curated health information that may not be readily available in the mainstream media, so as to encourage informed choice in your healthcare endeavours.*
Paleo Osteo is also home to an Osteopathic and Whole Health clinic in Torquay, Victoria. 
Osteopaths at Paleo Osteo employ the principles of Anti Ageing Medicine and Nutrition alongside traditional Osteopathic treatment approaches to offer a complete holistic approach to health. 
OUR TEAM: 
Dr Josh Lamaro (Osteopath) is an Osteopath and Anti-Aging practitioner who holds an Australasian Certification in Anti Ageing Medicine, and has worked in Bendigo for over 15 years.  He has a special interest in the treatment of chronic conditions such as fibromyalgia, chronic fatigue syndrome, and auto-immnune diseases using the modern and traditional principles employed by Osteopaths.
Functional laboratory testing in the areas of hormones, inflammatory markers, allergy testing and genomic assessment put the patient's whole health scenario into the context of the presenting complaint, and enable Josh to offer more than just traditional osteopathy to clients who seek optimal health.
Josh is also available at our second branch of Paleo Osteo in Torquay, on Victoria's Surf Coast.
Mark McGrath is a Movement-Performance coach and Stability Rehabilitation specialist.  Over the last 15 years, Mark has been experimenting with an optimal approach to freedom in movement by understanding the forces acting on the body, coupled with the investigation of the body from within.  In evolving his approach, Mark has sat with open-ended enquiry, while looking from a cross-cultural and trans-discipline perspective to integrate information that is global or whole.  Mark's post-conventional view is interested in integrating elements, so that the whole is understood.  Mark's clients include Hawthorn Football Club, Chris Judd of Carlton Football club, and Matthew Targett (Olympic Swimmer,) all of whom he has helped achieve optimal movement patterns.
The information on this website, and affiliated social media pages is presented by Paleo Osteo for the purpose of disseminating health information free of charge for the benefit of the public.
The information on the site is made available on the basis that the Paleo Osteo is not providing professional advice on a particular matter.
This website, and its affiliated social media pages is not a substitute for independent professional advice. Nothing contained in this site is intended to be used as medical advice and it is not intended to be used to diagnose, treat, cure or prevent any disease, nor should it be used for therapeutic purposes or as a substitute for your own health professional's advice.
Paleo Osteo does not accept any liability for any injury, loss or damage incurred by use of or reliance on the information provided on this website.
The Views expressed on this website, and affiliated social media pages do not necessarily represent the views of any staff of contracted practitioner at Paleo Osteo.
Paleo Osteo cannot guarantee and assumes no legal liability or responsibility for the accuracy, currency, completeness or interpretation of the information.  Content may include the views or recommendations of third parties and does not necessarily reflect the views of Paleo Osteo or indicate a commitment to a particular idea or course of action.